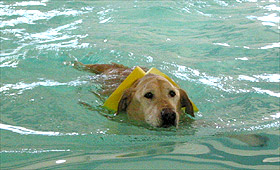 Loving Jessie

Amid the ads in the newspaper that read "Labrador puppies, $500", we were drawn to the one that read, in part, "Jenny, our Wonder Dog, has given birth to beautiful puppies". We made an appointment, purchased a plush toy moose as a gift and set off to meet our prospective companion.

We couldn't decide among the eight plump, gorgeous yellow Lab puppies. As we sat having tea with the owner in her living room, one of the puppies—she who was to become our Jessie—dragged the toy moose we'd left in the hallway into the room by its ear. The die was cast. The moose was hers and she was ours. Together, we were to begin a journey of joy and anguish.

The three of us became fast buddies. Jessie would laugh at our jokes—crinkling her eyes and stretching her mouth across her teeth. She loved food, people and the sound of laughter. She slept on her back with her legs in the air. She thanked us for gifts with a kiss or a lick of our hands. She would rifle our shopping bags, dropping her head into each bag. She loved the cottage on Georgian Bay. And to express her appreciation, she refrained from chewing any of our possessions and from ever digging a hole in the garden.

Jessie was thrilled by the social aspect of puppy training but indifferent to the training part. In the middle of a training maneuver with the instructors watching, she would suddenly veer off course to give someone in the room an enthusiastic kiss. The night of the final examination, distracted by the aromas of the potluck supper, Jessie gave her worst performance ever. Most of the other dogs took home a trophy that night; Jessie's prize was a bite of tuna casserole and a piece of cheese. As far as she was concerned, the evening had been a great success.

Days after her fourth birthday that March, we noticed the swelling in her right front leg. A sprain, we thought. Bone cancer, the vet said. Osteosarcoma. The prognosis was dim. With no treatment, she had a few months. With amputation, perhaps eight months.

Four days after her diagnosis, Jessie flew to Colorado State University Veterinary School, where the smaller bone—the one containing the tumor—was removed and a chemotherapy implant placed in her leg. Back home, the vet told us that Jessie was probably one of only a handful of dogs in Canada who'd had the procedure. Unaware of her unique medical status, Jessie had a busy summer, enduring five rounds of chemotherapy, leaping into the air for her Frisbee, diving into the water for her kong and sleeping it off in the warm sand.

One year turned into two. You're a miracle, we told her, aware that every birthday might be her last. She'd sneak onto the couch to sleep then look thoroughly annoyed when discovered. On Wednesday mornings, she would wait at the door for the bus full of dogs that would take her, with a packed lunch, to run with her pals in fifty fenced acres north of the city.

Two years turned into three. A bump began to grow at the site of the previous surgery. Jessie quietly endured numerous biopsies. Then, a definitive diagnosis of chondrosarcoma, cancer of the cartilage, a close relative of bone cancer. The leg had to come off.

Jessie sailed through the surgery. On our first visit to the hospital, we held her tearfully, wincing at the sight of the raw, angry slash where her leg and shoulder had been. She licked us and smiled and proudly showed us her cage. When she became focused on the approaching dinner trolley, we knew she would be fine. On her first day home, she climbed four flights of stairs with three legs.

Three years turned into four. Jessie appeared on Canada AM in a live segment about dogs with cancer and thankfully behaved herself. She unwrapped Christmas presents, tearing the paper delightedly with her teeth, then tried to help others open theirs. She watched television rapturously, growling at animals and staring wide-eyed at cartoons. When visitors arrived, she would rush off to get one of her toys to present to them. People we didn't know enquired about her. We were thrilled by the inevitable graying around her eyes and muzzle. A man in the park, watching her hop on three legs, said, "She's getting old, poor thing." "Yes," I said, happily, "She's getting old."

Four years turned into five. A small lump on her back leg turned out to be benign but while Jessie was under anesthetic, the vet noticed a larger, more troubling lump. It was about the size of a softball and pressing on her kidney.

Back to Colorado we went, loading Jessie and our mountain bikes into a rented motor home. In Colorado, Jessie had three massive doses of radiation. Back home, we watched the large tumor anxiously. For months, there was no change but Jessie got on with her life. She watched the construction crew put an addition on the cottage. Promptly at noon, Jessie would take her place under the picnic table, lest any of the workmen decide that the poor, three-legged dog needed lunch more than he did. By the end of the summer, the large tumor had shrunk considerably as a result of the radiation. We dared to dream about another Christmas with Jessie.

Christmas came and went. Pictures of Jessie show a face wreathed with smiles in the midst of toys and wrapping paper. We dared to dream about her tenth birthday that March. We rented an unused high school, decorated it with banners and streamers, and commissioned a special canine cake. We invited all of Jessie's canine and human friends—and there were many of both. Jessie knew the day was for her. For the first time in her life, she was too exhausted to eat supper before she climbed into bed that night.

Weeks after the triumph of the ten-year milestone, the large chondrosarcoma came back with a vengeance, literally growing before our eyes. Jessie was weary and uncomfortable. In the consultation at Guelph with the doctor who agreed to perform the risky surgery to remove it, Jessie looked directly at us. "Let's do it," her look clearly said.

* * *

It's been over a year since Jessie died a few hours after the surgery to remove a 15-pound chondrosarcoma. Our sadness is mixed with humility. We know that we could never face illness and pain with the calm determination that she did or conduct ourselves with the selflessness that she showed daily. Well meaning friends tell us that Jessie could not have been better taken care of, or have received more love. But the thought is of small comfort because, in our relationship with Jessie, we know we got the far superior deal. We still marvel at how a 90-pound Labrador Retriever, dealt such a rotten genetic hand, could so made her mark upon the world and teach us the only things we need to know. Part of us belongs to Jessie and she took it with her.